Hotels, hostels, rural tourism houses or apartments make up an offer adapted to the tastes and pockets of all audiences.
Within the historical complex or its surroundings, the hotel offer of Ribadavia adapts to you. Among all the offer, the following stand out:
Casa dos Ulloa
It's a building dating fromthe early 15th century and is located in the heart of the
Ribeiro wine region, next to the Avia River, shortly before it joins the Miño River.
Aldea de Esposende, 32415 Ribadavia.
As casiñas do Ribeiro
Houses located in the historic centre of Ribadavia, rehabilitated with natural elements, giving rise to a warmand charming atmosphere.
Praza de San Xoan, 32400 – Ribadavia.
Pazo Carballo
A 17th century country house with vineyards and where you can do activities related to them. Approach the wine world from the tradition.
San Paio, 87, 32400 Ribadavia
Casal de Armán
The hotel, restaurant and cellar in a 18th century manor where you can enjoy a great wine, an unique vineyard landscape and a traditional cuisine of great quality.
O Cotiño, Aldea de Sto André, 32416 – Ribadavia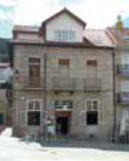 Pensión Restaurante Plaza
Nice hostal well placed in the main square of Ribadavia with interesting and traditional restaurant of Galician dishes and local cuisine.
Praza Maior, 15
32400 – Ribadavia.
Ribadavia offers a complete catalogue of proposals: home-made food giving priority to the product, innovation based on tradition, spectacular views… A complete offer to give its visitors a succulent meal accompanied by the best Galician wines, with the Ribeiro being the highlight. These are some of the proposals.
By places
Ribadavia
1. O Pucheiro
2. O Calvo
3. A Comanda
4. Rebusca 46
5. Porta da Cerca
6. Lantino
7. Plaza
8. Rebus
9. Ribeiro e Xamón
10. O Xudío
11. O Birrán
12. O Papuxa
13. Caracas
14. Evencio
San Paio / A Quinza
15. O Pipotiño
16. A Quinza
17. Os Cunqueiros
Sanín
18. As Chavolas
San Cristovo
19. Gran Lar
Francelos
20. A Parra
21. O Benigno
22. Termas de Prexigueiro
Sto. André
23. Casal de Armán / Sábrego